Creation of the Provinces
On 31 January 1990 the SMI went into provinces: the first two provinces were Bangalore and Calcutta (Kolkata) Provinces. These provinces were erected by Sr. Pieta Manavalan, Superior General. Besides the two provinces, houses in Africa, Europe and U.S.A. were formed into a Delegation. In ten years it became necessary to further divide the congregation into more provinces for easy administration. Hence, in 2000 May Delhi Province was born. Shortly on 30 September 2000 East African Province (EAP) became the fourth SMI Province. Later in 2008 Guwahati Province came into being by bifurcating Kolkata Province.

Erection of Delhi Province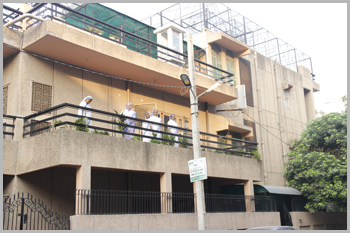 Delhi Province, the third SMI Province was a jubilee gift of the Great Krist Jayanti Jubilee 2000 to the congregation, erected on 24 May 2000, carving out communities from Kolkata and Bangalore Provinces. Sr. Marie Pothanamala, Superior General canonically erected Delhi Province at Sisters of Mary Immaculate, C-4/12 Model Town - III, Delhi 110 009, during the Eucharistic celebration presided over by Archbishop Alan de Lastic, Archbishop of Delhi. Sr. Gemma Marutholil was installed as its first Provincial Superior.
The newly erected Delhi Province comprised of twelve houses: Communities at Captainganj, Jashpurnagar, Katihar, Gopalpur, Leela, Jail Road - Ranchi, Sarsiwa, Shivnagar and Tagore Hill - Ranchi in the states of Bihar, Chhattisgarh, Jharkhand and Uttar Pradesh from Kolkata Province became part of the new province together with three communities - Kathlal and Nadiad in Gujarat and Model Town, Delhi belonging to Bangalore Province.