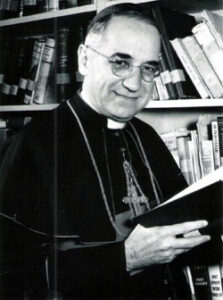 Bishop Louis LaRavoire Morrow is the founder of Sisters of Mary Immaculate. He was born on Friday, 24 December 1892 at 9:00 a.m. at Weatherford, Texas, USA, as the second of three children of Joseph LaRavoire, a staunch French Catholic and Isabel Morrow, American born of Irish heritage, a staunch New Jersey Episcopalian.
At the age of five the family moved to Mexico and little Louis called Louisito made Mexico his home in every respect. As a young boy at Santa Julia boarding run by the Salesians of Don Bosco, he offered himself to God to be a Salesian. His mother was a pillar of support to him in his priestly life. He was ordained a priest on 21 May 1921 in the Cathedral of San Miguel, Puebla, Mexico. His Episcopal ordination was on 29 October 1939 by Pope Pius XII in St. Peter's Basilica, Rome.
His catechetical charism and love to proclaim Jesus emerged and began blooming from his early childhood. The first instance of it is seen in his prayer for the conversion of his mother to Catholicism, on 8 December 1904, the day of his First Holy Communion. In answer to it, his mother was received in the Catholic Church in less than a year on 10 September 1905. Every day before going for recreation he had made a habit of visiting Jesus in the Blessed Sacrament. Among his fellow students in the boarding he tried to be like Dominic Savio.
In 1913 when he was put in-charge of the recreation centre (oratory) at Puebla, Mexico, Louisito attracted hundreds of youth to the oratory by his charming and dynamic personality, vigor, creativity and his passion for the souls of youth. His primary aim was teaching catechism and giving religious instruction. To that end he prepared a 'Manual of Prayers'. Then on his thirst to print books kept growing and he produced a series of catechetical books to be used from infancy to adulthood, for the complete religious instruction of a baptized person: the first book was My Friend, a prayer book for children published in 1929. The chief one in the stream of books that he produced was My Catholic Faith, later renamed as Our Catholic Faith.
He was set on fire with the missionary zeal around the age fourteen in 1906 when he heard about the Little Flower, St. Therese of the child Jesus. In 1912 as a novice he read the autobiography of St. Therese – The Story of a Soul. (cf. Know Your Father Founder BISHOP LOUIS LA RAVOIRE MORROW)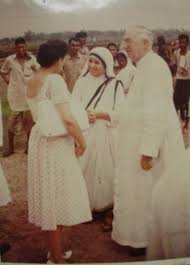 With the above background, when the newly ordained prelate came to his beloved diocese he left no stone unturned to look after his flock – taking care of their material as well as their spiritual needs. The founding of the SMI is the expression of the burning thirst for souls he had: that thirst was quenched on 12 December 1948 with the founding of the Catechist Sisters of Mary Immaculate Help of Christians.
The founder nurtured the tiny sapling with love and care, taking personal interest in the members. He took keen interest in recruiting candidates to the congregation. Sr. Julia Narayan is the first candidate he invited to come to Krishnagar. She arrived in Krishnagar on 10 February 1950 (cf. Memoirs of Father Bishop p 62).
Like a father and mother, Bishop Morrow looked after every member, so dear to his heart. When a candidate or novice had to leave due to ill health, his heart ached terribly. After his retirement, in the evening of his life he took up residence at the Mother House of the SMI on 17 March 1970 and spent his life for his beloved children till he returned for his eternal home on Monday, 31 August 1987 at 9:35 a.m.
Bishop Morrow has bequeathed the SMI to the Church to continue satiating his burning thirst for souls. The motto he has given to his children is: 
To love God and help others to love God. The SMI in all that they do through their various apostolic activities go about giving the good news of Jesus and bearing witness to him.
Spiritual Charism: Little Way of Spiritual Childhood of St. Therese of the Child Jesus
Apostolic Charism: Evangelization and Catechesis
SMI Way of Life: Little Way of Spiritual Childhood and Preventive system as lived and taught by the Founder Bishop Louis LaRavoire Morrow